DotConnectAfrica Congratulates the new President of Kenya, Mr. Uhuru Kenyatta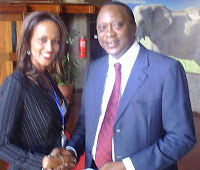 (Press Release) – Mar. 14, 2013 – UPPER HILL, Nairobi, Kenya — DotConnectAfrica Trust (DCA Trust), and its affiliate DCA Registry Services (Kenya) Ltd. is pleased to extend a very warm congratulations to the president-elect of the Republic of Kenya, His Excellency, Mr. Uhuru Kenyatta and His Deputy, H.E. Mr. William Ruto.
The Kenyatta name is deeply rooted in the history of the independence struggle of Kenya as a sovereign nation.
DCA Registry Services (Kenya) Ltd have observed that the recent successful elections were generally acknowledged to be free and fair, and conducted in a peaceful manner, and the results of the recent national elections will pave the way forward for Kenya towards a new era of peace, national reconciliation, political stability and economic development. Adapted from DotConnectAfrica Press Release