Satya Nadella to replace Steve Ballmer as Microsoft CEO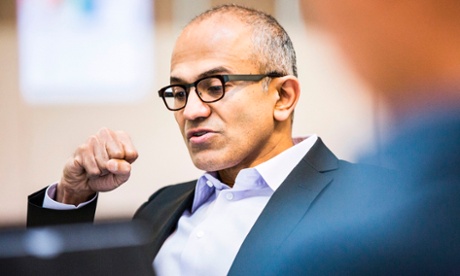 Relatively unknown, who had headed Microsoft's cloud computing division, becomes only third boss in tech giant's history
Microsoft has settled on a relative unknown as its replacement for long-time CEO Steve Ballmer.
India-born Satya Nadella, 46, head of the company's cloud computing division and enterprise business, was appointed after a team of headhunters concluded a five-month search that included some of the most world's most famous executives.
"During this time of transformation, there is no better person to lead Microsoft than Satya Nadella," said Bill Gates, Microsoft's co-founder.

"Satya is a proven leader with hardcore engineering skills, business vision and the ability to bring people together. His vision for how technology will be used and experienced around the world is exactly what Microsoft needs as the company enters its next chapter of expanded product innovation and growth."
Nadella is only the third person to lead Microsoft; since the company was founded 39 years ago, only Gates and Ballmer have headed it. But in recent years the company has been left flat-footed by rivals Apple, Google and Facebook. Ballmer said he would step down last August, and the company has since been conducting an extensive search for his replacement. Ballmer said Nadella was "the right leader at the right time" for Microsoft.
Nadella joined Microsoft in 1992 and has had leadership roles in cloud services, server software, internet search and business applications. He was born in Hyderabad, and holds a master's degree in computer science from the University of Wisconsin and a master's in business administration from the University of Chicago.
While he is largely unknown outside the company, Nadella runs one of Microsoft's fastest-growing divisions. Microsoft's commercial cloud services grew its revenue by 107% compared to a year ago, the company said when it reported its fiscal second-quarter results on 23 January.
Ford CEO Alan Mulally was once seen as a frontrunner for the Microsoft job. But Mulallly said in January that he would not join the software giant. Former Nokia CEO Stephen Elop, now vice-president of Microsoft's devices and services business, had also been seen as a contender.
Sydney Finkelstein, a leadership professor at Dartmouth's Tuck School of Business, said there were huge challenges ahead for Nadella. Finkelstein said making changes within a company as large as Microsoft was difficult for any CEO and more so when the senior figures you replace are still playing a part. As part of the announcement, Gates said he would assume a new role on the board as founder and technology advisor, and will devote more time to the company.
"Microsoft is an underperforming giant. It makes most of its money today in the same way it did 20 years ago. That needs to change," said Finkelstein.

And, Finkelstein added, "the fact that he is relatively unknown outside Microsoft is interesting, especially in the light of the big names that were associated with the job. It makes you wonder if he was the first choice."
In a statement about his hiring, Nadella called Microsoft "one of those rare companies to have truly revolutionized the world through technology," and said, "I couldn't be more honored to have been chosen to lead the company.
"The opportunity ahead for Microsoft is vast, but to seize it, we must focus clearly, move faster and continue to transform. A big part of my job is to accelerate our ability to bring innovative products to our customers more quickly." Source