Lizard Squad allegedly caused an outage of the Sony's online PlayStation gaming service which prevented users logging in on consolesreports Guardian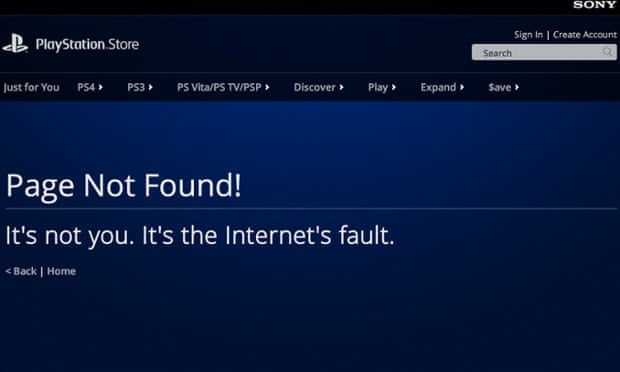 The hacking group Lizard Squad is claiming responsibility for an attack on Sony's PlayStation network, which caused connection issues for gamers over the weekend.
Visitors to the PlayStation Store were met with the message "Page not found! It's not you. It's the internet's fault". Sony said: "We are aware of the issues some users are experiencing, and are working to address them," but did not elaborate the cause.
Lizard squad claimed credit for the outage via its Twitter account.
The hacking group also targeted Sony's PlayStation network in August with denial of service attacks and bomb threats against the Sony Entertainment Online president, John Smedley, which forced the diversion of a plane to a nearby airport to investigate the claims.
This is not the first time the PlayStation Network has been subject to a series of attacks from a hacker group. In 2011, the service was brought down for several days leaking the personal details including credit card numbers, email addresses and passwords of more than 70 million users. Sony was criticised for its handling of the attack, and fined £250,000 by the UK's data protection watchdog.
Did North Korea's notorious Unit 121 cyber army hack Sony Pictures?
… as you're joining us today from Kenya, we have a small favour to ask. Tens of millions have placed their trust in the Guardian's fearless journalism since we started publishing 200 years ago, turning to us in moments of crisis, uncertainty, solidarity and hope. More than 1.5 million supporters, from 180 countries, now power us financially – keeping us open to all, and fiercely independent.
Unlike many others, the Guardian has no shareholders and no billionaire owner. Just the determination and passion to deliver high-impact global reporting, always free from commercial or political influence. Reporting like this is vital for democracy, for fairness and to demand better from the powerful.Read more